October 22

A Special Train Run at Highland Park Public Library, from 9 AM to 4:00 PM.

November 12, 13

We're off to Trainfest in Milwaukee. Maybe we'll see you there?

December 3

A Special Train Run at Wauconda Public Library, from 9 AM to 4:00 PM.
Trains on Display


Spooky Trains Display - Full Screen



Campbell Food Train Display - Full Screen
When you stop by the Fremont Public library for the next train club run on December 10th, we'll be featuring trains and boxcars of the season. Be sure and check out what's new at Trains on Display. If you would like to see more Spooky Trains, please join us at the Highland Park Public Library Special Train Run. Thomas will be there too.

Above, the display had Spooky Trains during our October Train Run, Campbell Food Trains during our September Train Run, and Patriotic Trains during our July Train Run. Hopefully you didn't miss the previous displays with the Food and Candy Trains, Military Equipment on trains, Circus Wagons on flatcars, a John Deere train and flatcars loaded with tractors and other implements, and at Christmas time, several Christmas Trains.

Have you ever heard of The Toy Train Barn? Several NCOG members had a chance to visit this place recently and really enjoyed it. Lots of trains on display and lots of trains running on many well decorated train layouts. It's a few hours from the Chicago area, but well worth the trip. Check out their website to learn more about The Toy Train Barn.

If you have RFD-TV on Satellite or cable, you might want to check out Mondays at 5:00 PM or Thursdays at 3:00 PM for some additional train programs.
Bill's video of the NCOG Train Club Layout.

For those of you who especially enjoy Thomas on the club videos, check out this page of videos for Friends of Thomas
For articles and links to additional club activities, go to NEWS.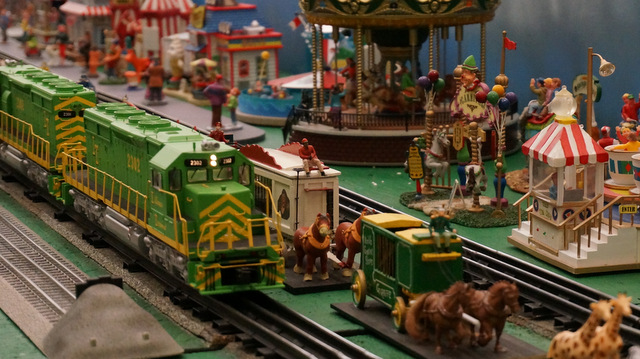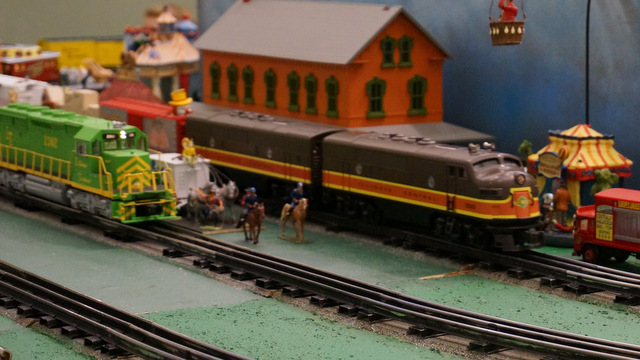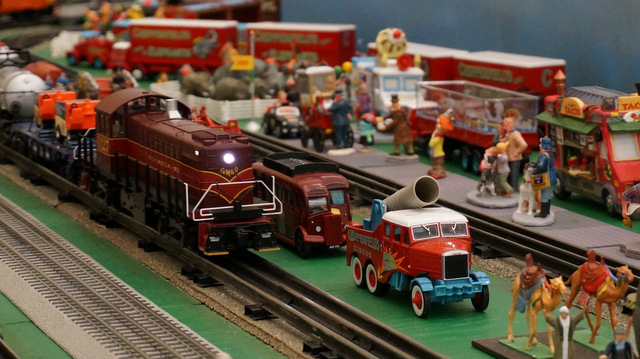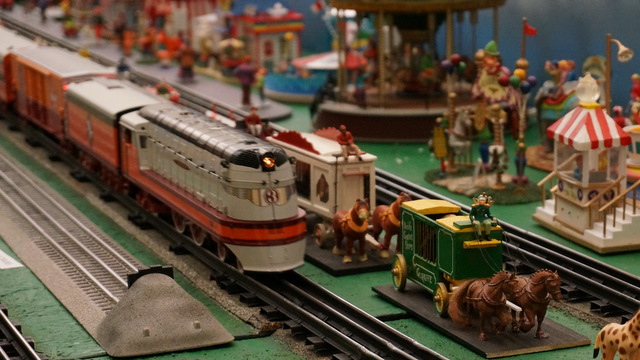 Videos from past train runs can be found at VIDEOS.

Illinois Central Set at the recent Special Run at Fox Lake Public Library.
An Honorable Mention recipient of a MTH 2012 Blue Comet Award

Hope you are enjoying the changes. We try to update the site every other week or so, with at least new photos on our front page. But sometimes we take some time off to take pictures of more trains.


If you like our website and model trains tell your friends about NCOG trains. Ask about running one of your trains on our layout.

The NCOG, North Central O Gaugers Model Railroad Club, Inc. Model railroad club promoting O gauge trains. The club features an operating train layout located at the Fremont Public Library in Mundelein, Illinois.

NCOG, Ncogtrains.com, NCOG Logo and it's content are Copyright© 2005-2016 North Central O Gaugers Model Railroad Club, Inc. USA.